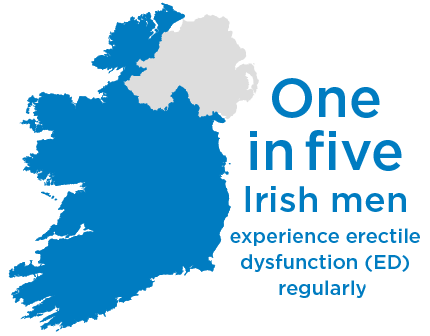 What are the symptoms of erectile dysfunction (ED)?
If you cannot achieve or maintain an erection firm enough for sex, you may have a medical condition called ED.

Men can experience symptoms in different ways:
Some cannot achieve an erection.
Others may achieve an erection, but not firm enough for having sex or they may lose the erection before or during sex.
For some men with ED, it can be difficult to achieve or maintain an erection every time they try to have sex. For others, symptoms can happen just once in a while.
ED is a common medical condition that has nothing to do with masculinity.
Research indicates that one in three Irish men have experienced difficulty achieving an erection, 1 in 5 indicated they experience ED regularly, so don't worry – if you're experiencing ED symptoms you are not alone. You can take action to get help.
Many men ignore their ED symptoms for years, because they are too embarrassed to see a healthcare professional, but the symptoms of ED can be treated in most cases.